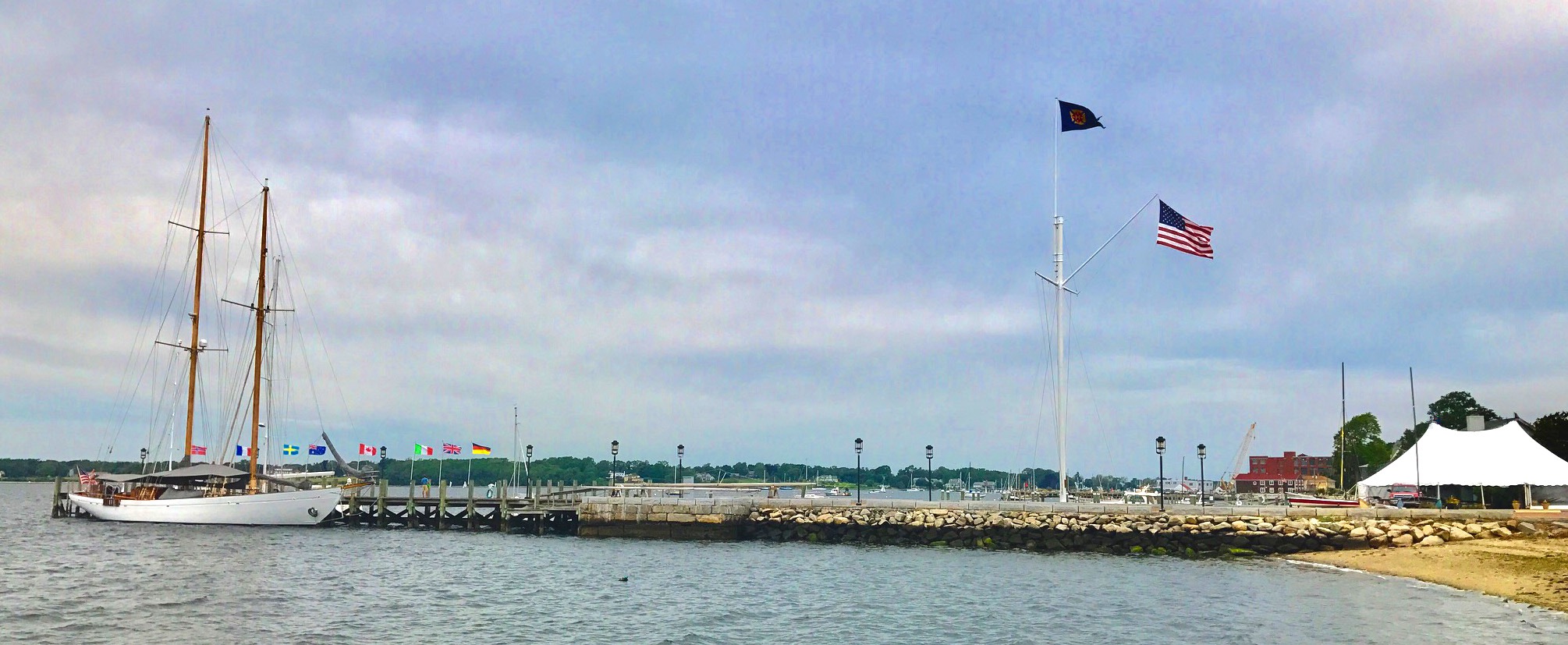 One year and thousands of miles after departing California, classic schooner Eros has arrived in New England; Bristol Rhode Island to be precise. Eros is tied up in a magical place, at least for lovers of classic boats. She's berthed at the Herreshoff Marine Museum,our base of summer operations. In the past 12 months, Eros has visited Mexico, Panama, Trinidad, Antigua, St. Thomas, British Virgin Islands, Bermuda and New England.

In the past 45 days, Eros completed her annual haul out in St. Thomas, USVI, where she was cleaned, painted, and serviced. She departed St. Thomas in early June for Bermuda where she hosted a charter group for the America's Cup, and did they ever see some action. And finally her loving crew delivered her to Bristol where they are getting some well deserved R&R, and getting ready for a busy charter season.
Charter Brokers' Open Boat
Saturday, July 8th, 1-5 p.m., Bristol, RI
All charter brokers are invited to come see the fresh updates that are making Eros one of the most desirable charter yachts in New England. Join us for cocktails and hors d'oeuvres. Herreshoff Museum, One Burnside Street, Bristol, RI 02809. Eros phone, Captain Jeremy King, 310-200-0938. RSVP (please tell us number of visitors and approximate arrival time).
Eros Booked Charters:
July 12 - 18
July 21 - 30 (This charter ends in Maine)
August 17 - 20 (she will race in the Opera House Classic Regatta)

Available for Charter:
August 2 - 14 Consider Maine or Southern New England
August 23 onward

Itineraries:
Maine
Newport & Nantucket

Consider chartering Eros for a Classic Yacht Regatta:
Aug. 12 - 13 Corinthian Classic
Aug. 24 - 25 Herreshoff Classic

New Online Calendar
Now, you can quickly check to see when and where Eros is booked, and more importantly, when she's available.

Please feel free to send questions and comments to cameron@sy-eros.com.